As 2022 soon moves into the rear view, I wanted to thank you all for reading and supporting me, and reflect on some of what I'm most grateful for.
It's easy to limp to the finish line, especially after the year/s we've had, but let's take a moment to pause. I find reflecting on what was good, and sweet, and meaningful in the year helps soften us, and makes us more receptive to good things happening in 2023.
So here I go:
At a personal level:
Celebrated 34 years of marriage to my honey and my love Steve Davies. I love this for us!

I've been healthy and wow, is that ever the most important thing. Broken wrist aside, I've maintained body and mental wellbeing pretty well considering. I feel so grateful for that.

I got to see my mum all my (6) sibs this year.

I did some profound personal work that has infused and informed every part of my life. It was (and continues to be) extraordinary.

Going to the UK and spending time with Steve and his mum Wyn before she passed away
In a work context:

I published my book Lead In and the response has been fantastic!
I even shared it with Richard Branson when I met him on Necker Island and felt very validated and see. He truly gets and lives mindsets.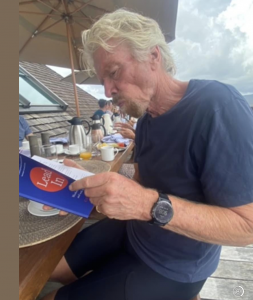 On that, facilitating a leadership gathering for 35 extraordinary women on Necker Island for Business Chicks (with Richard Branson there every day) was an absolute highlight and BLAST! Wow. I levelled up immensely on owning the energy I bring, the difference I make and the joy I can contain.

I worked with incredible people and organisations We did brilliant stuff together – from deep seated mindset work, to women's leadership, to culture change, to one:one coaching! Helping clever, heart centred people do amazing things is my sweet spot – Thanks for being part of that.

Expanded Rising to be 12 month ongoing program

Rising Women

, and seeing the growth and community that has happened.
There have definitely been things I haven't done that I hoped to. And things I did that I probably shouldn't.
Yet when I reflect on the year and wonder: Did I grow? Did I serve others? Did I let love in as much as possible? Did I express love and magnify it as fully as I could? The answer to these is YES.
What were the highlights of your year? Can you make some time to reflect on what was good, and less time on what was difficult?
Thank you for being part of my community. Have a safe and wonderful break – and see you next year.
Much love and blessings to all,
Till 2023,
Much love
Cathy