Organisations face three challenges in regard to this:
How to attract great people;
How to keep great people; and
How to grow your people so they become great.
Answering this requires an understanding of three principles:
Not all leaders look the same;
Everyone has an inherent ability to lead; and Strengths and abilities can be developed and accelerated with the right support and empowerment.
A reimagination of leadership is essential to solving 21st Century challenges. Leadership is not positional. It should not look and sound a certain way.
This is why Rising Leaders was developed.
Imagine your organisation full of people who bring their energy, their heart, and their smarts to solve important problems and make things better. People leading with authenticity, vision, responsibility and meaning.
For business to remain relevant, attractive, and profitable, it is essential for this type of leadership to arise in as many people as possible.

Rising Leaders is an online learning experience to achieve this.
It is for organisations and people hungry to evolve their ability to lead with impact. Created and delivered by Cathy Burke, Rising Leaders empowers present and emerging leaders to take action in the most effective way possible. It provides an environment for individuals to become aware of their mindsets, create a vision of what type of leader they could be, learn how to express this, and channel this understanding into powerful, effective action.
Rising Leaders supports organisations who want to go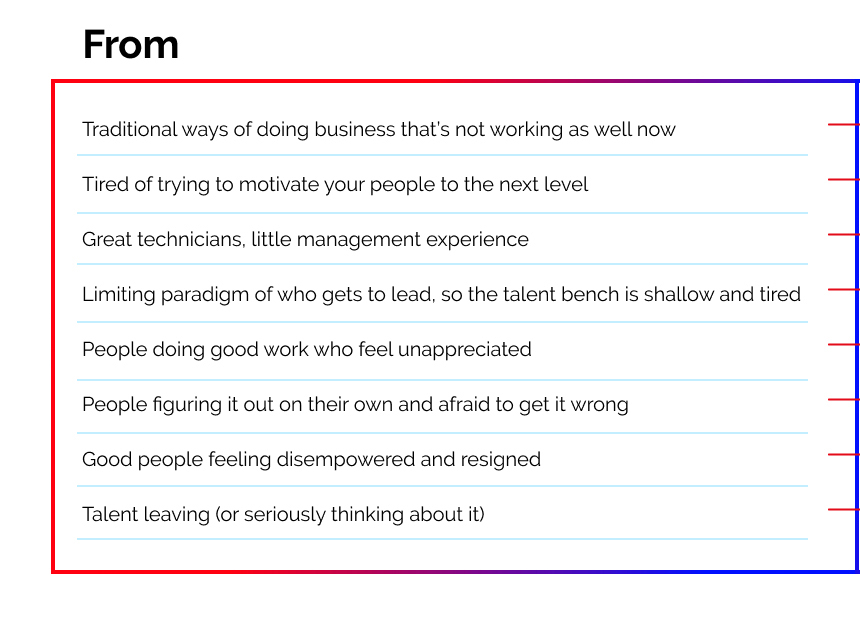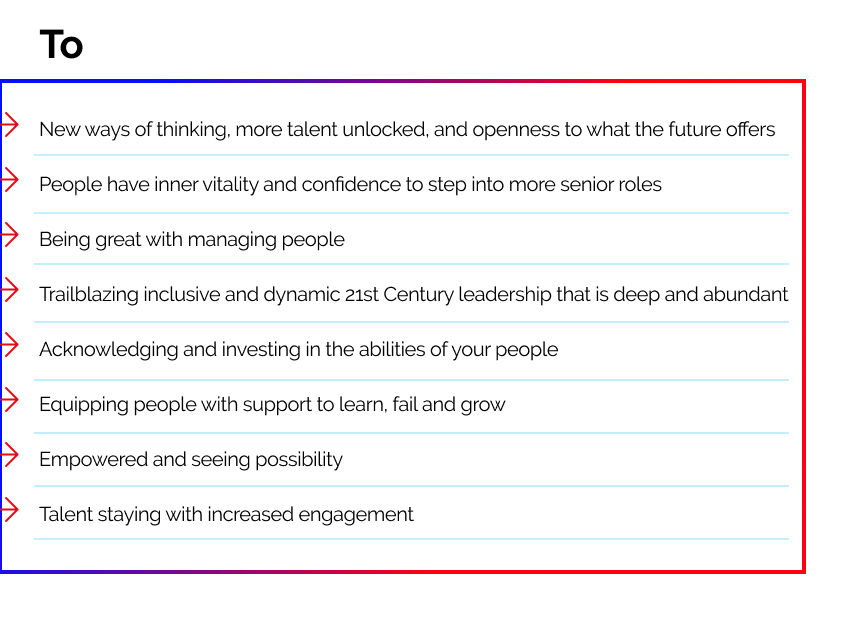 Rising Leaders supports NextGen leaders who want to move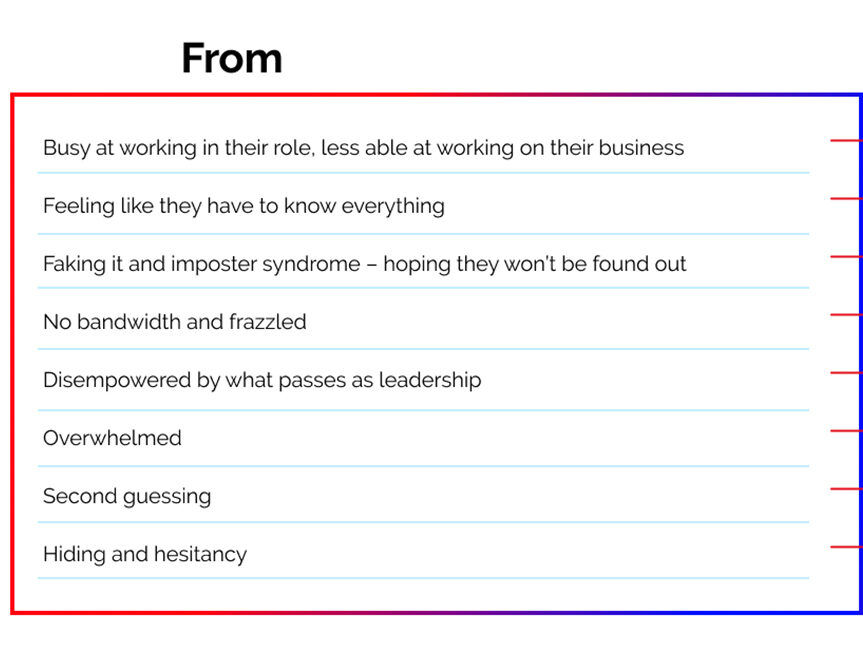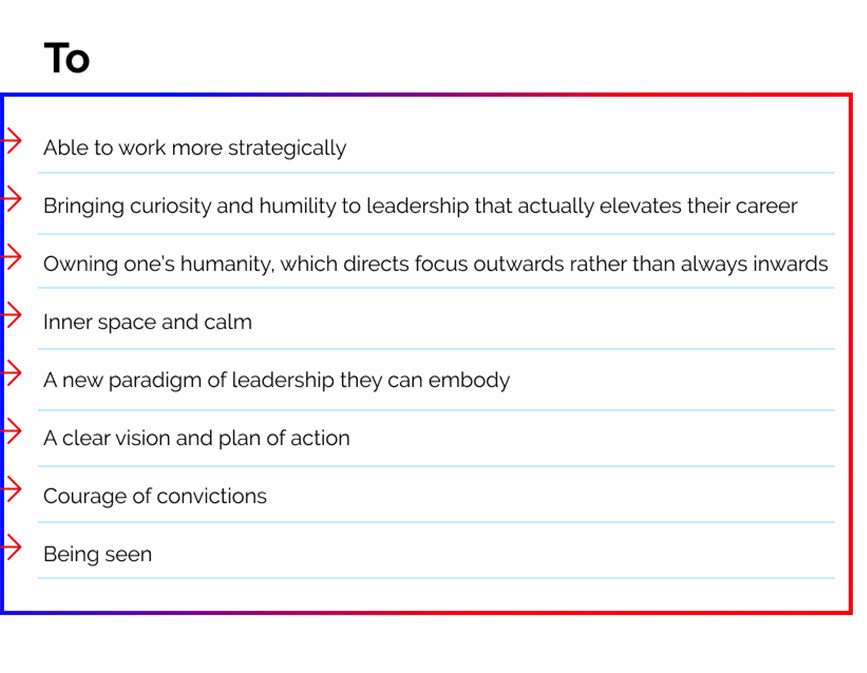 ""Rising Leaders champions talent, challenges assumptions and expands potential in organisations. In today's war on talent, particularly in mid-senior management - nothing retains people more than opportunities like Rising. Rising guides you through challenges and encourages meaningful growth."

Angela Walsh, Talent and Inclusion, Beam Australia
Why Rising Leaders?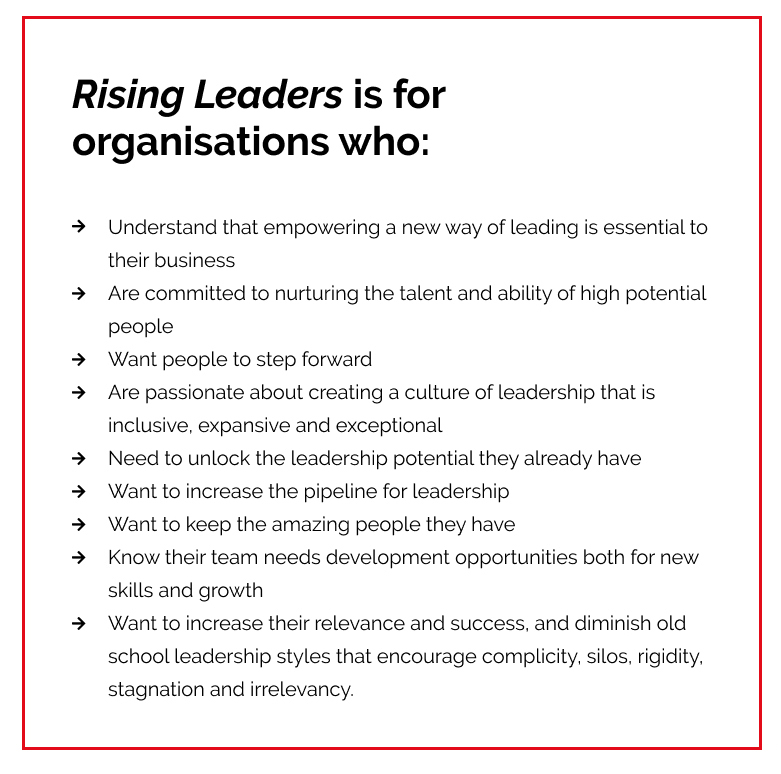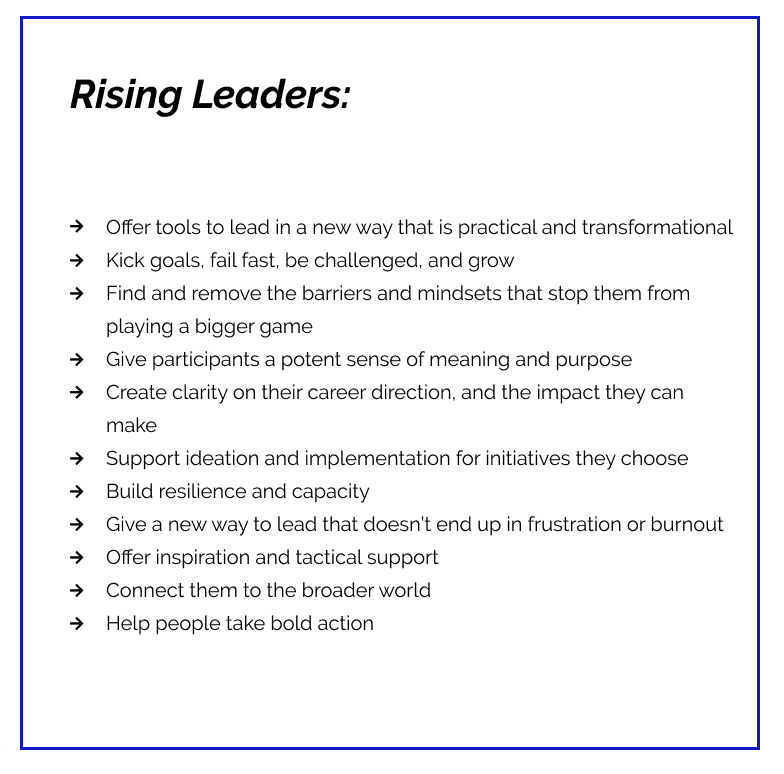 ""Rising has been an absolute game-changer for the way I lead and the challenges I take on. I now put myself forward for opportunities I would have waited another few years to even consider. In doing so, I have accomplished and excelled at the task at hand. I learned it wasn't a lack of the technical skills, but rather it was leadership skills I was missing, which through working with Cathy in Rising I now have."

Georgina Davies
""Cathy has been instrumental in implementing a mindset change across my Leadership Team. Her on-on-one mentoring lifted our executives to a new level of confidence and effectiveness. We continue to work with Cathy to help guide us through this mindset journey for our next level leaders."

Nick Nairn, CEO, Stuart Alexander
The Rising Leaders Program
Rising Leaders is an online learning program, typically delivered over 4-6 months.
Rising Leaders is grounded in real world experience. It breaks down old ideas on what leadership looks like, and empowers people to design and step into their unique leadership abilities. It elevates courageous and innovative action for the people who participate.
Rising Leaders is a proven and practical pathway for your people to rise and fulfil their potential. It is based on the 9 Steps Cathy Burke observed in her work at The Hunger Project, and wrote about in her book Unlikely Leaders: Lessons in Leadership from the Village Classroom.
These 9 steps have been successfully adapted for organisations worldwide. Which makes sense. At the core of this approach is a fundamental belief in the leadership humans bring when empowered – despite the circumstances.
In these times of mass disruption and uncertain futures, organisations still need to fulfill their mission. Rising Leaders gives you the ability to bring more people forward to do just that.
9 Steps Leadership Matrix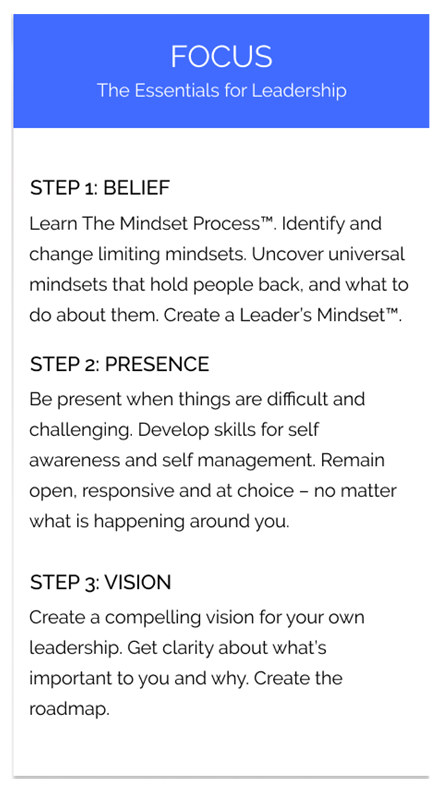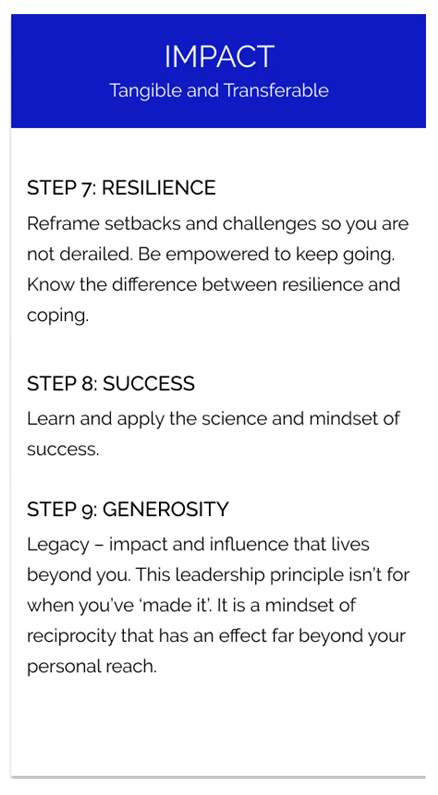 What the Research Indicates:
"By developing a leadership mindset (at Microsoft), managers and team members become more positive, innovative, open and engaged despite the tsunami of constant change. Focusing on mindsets is the reason Microsoft CEO Satya Nadella gives for the doubling of share price in just 4 years."

- Ibarra, Rattan and Johnston, London Business School, 2018
"Pandemic disruption will require organizations and their HR functions to develop their managers' skills, awaken their mindsets to manage in new ways, and create the capacity across the organization to enable this shift."

-Kropp, Cambon, and Clark, Harvard Business Review, June 2021
"75% of organizations rated their leadership development programs as not very effective. This is because most overlook a specific attribute that is foundational to how leaders think, learn, and behave: their mindsets."

-Prof Gottfredson and Asst. Prof Reina, Science Direct Journal, 2020
"Learning and Leadership are considered the top two most urgent priorities organizations are facing"

-Deloitte Global Human Capital Trends survey, 2019
"So much of what needs to change in organizations comes down to mindset. Twenty-first-century leaders are expected to have a growth mindset."

-David Mallon, Vice President and Chief Analyst at Bersin by Deloitte Consulting LLP, 2019
"Teams using growth mindset increase their confidence over trials and end up setting more challenging goals for themselves in the long run."

-Schroder, Moran, Donnellan & Moser 2014
What participants of Rising say:
"I now have a simple yet powerful frame to be in daily action at every level of my business and personal life. It has enabled me to push past resignation and cynicism and to stay inspired in difficult times"

Kaama Joy, Founder and CEO, The Social Producers
"Rising has helped me move through my self imposed limitations, and clarified my thinking, direction and goals."

-Scarlett Lewis, Founder and Chief Movement Officer, Choose Love Movement
"Rising teaches how to remove self-limiting beliefs and obstacles; clarify what could be achieved by thinking big, so as to move forward with purpose."

-Kathy Johnson, Executive Director, Yarraport
"Rising is not about an ego-driven leadership, but about leadership that allows each of us to openly see what is possible – and do it together, not alone."

Mandy Hogan, Director, Hogan Health Consulting
"My imposter syndrome and old patterns of pleasing others have gone. The speed at which this change in me has come about is due to the tools Cathy gives us, and the way she transforms how we look at things."

Claire Robilliard
About Cathy
Cathy Burke is a globally recognised facilitator of human development and leadership.
For 20 years she was the CEO for The Hunger Project Australia, and then Global Vice President, working to end hunger across South Asia and Africa.
Cathy was an integral member of a visionary team who developed leadership at scale in villages all over the world. Through her work, millions of the world's poorest women stepped into their leadership, and were able to feed themselves and their families. Understanding the blockers to people rising, and learning the tools to transform them, is what gives Cathy Burke her edge.
Cathy now works with organisations and leaders around the world to help develop the mindsets, authenticity and practical wisdom needed to achieve a better future.
Cathy is the winner of the Australian Davos leadership award, and 2014 AFR Women of Influence award.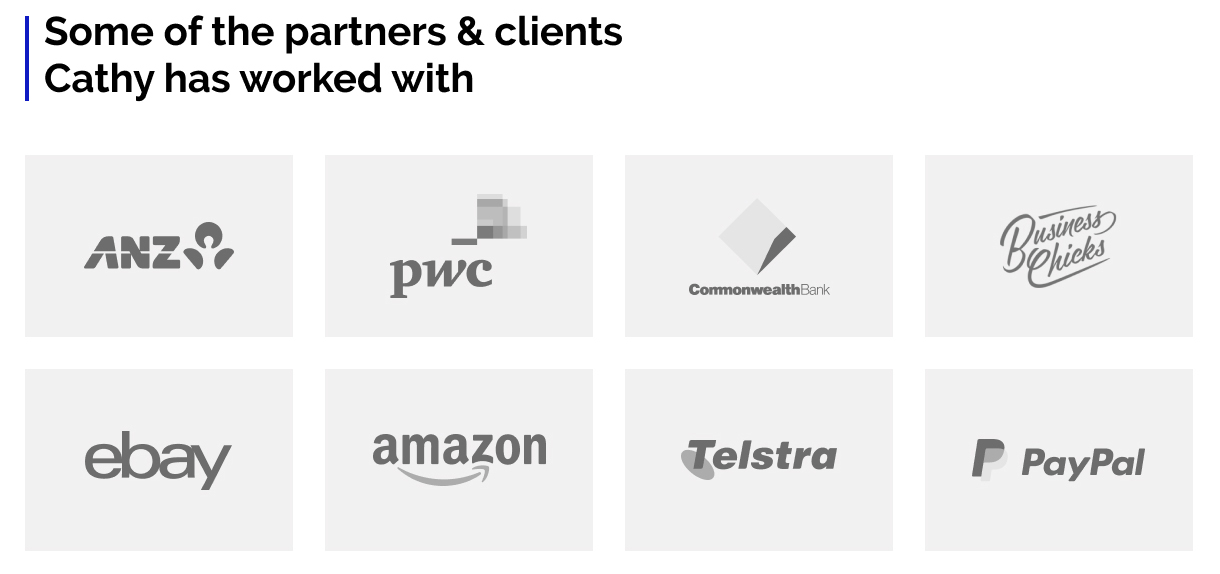 What Others Say About Cathy
"While SVP of Global Customer Experience at eBay, my leadership team and I worked very hard to create a global culture focused on leadership excellence and inclusiveness.
Cathy's work with us was pivotal to achieving our goals."

-Steve Boehm, COO, Barings
"Cathy Burke's presentation style is warm, generous and transcends any limitations posed by delivery in the virtual world. Cathy is able to create intimacy and makes everyone feel as though they are having a direct 1:1 learning experience with her."

-Olivia Ruello, CEO, Business Chicks Australia
"What I learned from Cathy motivated me to create programs for women which this year (2020) were recognized as "diversity initiative of the year" by Women in IT."

-Trina Limpert, 2020 President, Women@eBay
"I have known Cathy for many years and watched her in action. What Cathy Burke has to say should be listened to."

-Speciosa Wandira-Kazibwe UN Secretary-General's Special Envoy for HIV/AIDS in Africa Former Vice President of Uganda
"Cathy was instrumental in challenging the team to look at things differently, create a unique leadership angle, and reach for every inch of potential."

-Tania Austin, Owner/CEO, Decjuba